San Francisco Mobile Notary and Apostille Service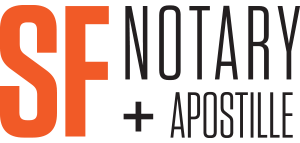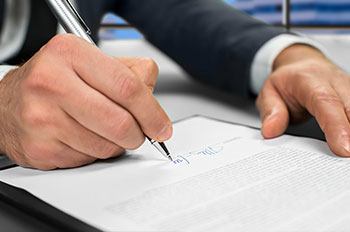 A mobile notary from SF Notary will come to your location to notarize documents at your convenience. We make the signing process quick and easy.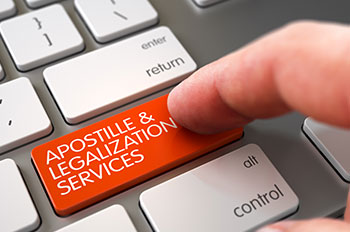 Our apostille experts will pick up, notarize, and get your international documents apostilled or authenticated, and then ship or return them.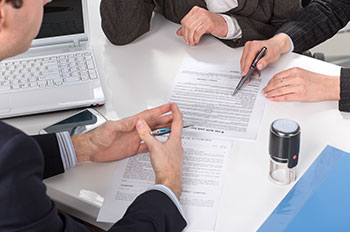 SF Notary has certified, experienced Notary Signing Agents ready to walk you through the loan package, whether you're buying, selling, or refinancing.
Our Traveling Notaries Come to You
SF Notary is here for you. Our certified notaries will come to your office, home, hospital room, coffee shop, airport terminal—wherever you may be. The process is quick and painless. All you need is a valid ID and the document(s) that require(s) notarization; we'll bring everything else. We'll make sure everything is properly signed, dated, and notarized. Most notary appointments only take about ten minutes.
Licensed and Experienced Notaries
Every notary public at SF Notary is licensed by the California Secretary of State to perform notarizations and has notarized many, many documents. We are all members in good standing of the National Notary Association (NNA), the nation's leading notary advocacy and training organization. Our team includes apostille experts who have been successfully navigating the complex process of international authentication for many years. We also hold an additional certification as Notary Signing Agents, allowing us to facilitate home loans for borrowers, sellers, or refinancers. Our notaries are bonded up to $15,000 and carry E&O insurance of up to $100,000.
Trusted by Leading San Francisco Businesses
Over our 20 years of travel notary services, we have built strong relationships with many of San Francisco's biggest businesses including international banks, law firms, real estate companies, tech titans, retailers, and more. Our repeat clients depend on our notary expertise, flexible availability, and devotion to customer service. Our mission is to provide exception notarial services when and where you need them.
Experienced, licensed, professional notaries

SF's favorite notary service since 2004

We come to your location across the Bay Area

Same-day appointments available
Expert apostille and authentication expediting

Bonded and insured with over $100,000 E&O

Members of the National Notary Association (NNA)

Hundreds of 5-star reviews
SF Notary & Apostille has been highly responsive and efficient with managing my client signings. I rely on their professionalism and ability to get things done quickly.
~ Jennifer J., Orinda 10/10/2023
Great service, efficient, professional and knowledgeable! Highly recommend…location is very convenient and John was helpful and friendly.
~ Fermin N., 10/04/2023
John is absolutely fantastic. He's super quick to respond and very knowledgeable about government documents. He stops by to grab the documents, avoiding any long delays mailing things to him. He also delivered some incredibly fast turnarounds that others told us weren't possible. All in all, I was wowed and extremely grateful to have his help in our visa process!
~ Kira S., Madison, WI 09/29/2023
We had an emergency appointment with the Indian consulate this morning and sure enough there were some documents that needed to be notarized. Strangely the consulate processing center was also in the middle of moving and was limited on time. We called John and he answered, he was close enough for us to quickly run over. He was quick and wonderful, friendly and accommodating. The lobby was beautiful, thank John for expediting our paperwork and helping us get on our way
~ Dilnaz T., Sunnyvale 08/11/2023
We found ourselves needing a quick turnaround for Apostille documents. Thanks to John's guidance and services, we met our tight deadline. I highly recommend SF Notary + Apostille for their responsiveness and professionalism.
~ Jane T., San Francisco 06/15/2023
John and his company are wonderful!  Professional, fast and friendly.  He has been helping us for the apostille and notary service many times in the recent years.  Always satisfied.
~ Jennifer L., Santa Clara 05/31/2023
Fast, on time, mobile service!
My favorite in San Francisco. Met John at building lobby and was done quickly. Will use again.
~ John C., Business Owner 05/23/2023
"You can't please everyone" as the saying goes. SF Notary + Apostille defies this statement completely. My go-to contact was John Cavalli. He was always available, I tortured him with a million questions and he always answered patiently. He underpromised and overdelivered (even though his promises in terms of timeframes were quite bold). Seriously, I would NEVER work with any other company when it comes to notary in California and Federal Apostille, than Mr. Cavalli and SF Notary + Apostille. Highly recommend them to everyone!
~Nathan H., Las Vegas, NV 05/19/2023
I needed documents notarized to get building plans for a remodel. I coordinated with both HOA President (required signer) to meet downtown and with SF Notary. He arrived as we did, and in minutes documents were signed and notarized and we were on our way. An absolutely smooth and professional service. Will use again!
~ Paul H., Boston, MA 05/16/2023
This is my go-to notary service and I've now used them 3 times for various needs. They are super responsive, personal, and make sure everything happens timely. I've used them now for international Apostille services and that, too, was super smooth to facilitate and make happen in a fast way. Highly recommend them!
~Ashley W., San Francisco 02/24/2023
I needed to get a notary for my boss the same day and he was quick fast and got the job done. He met my boss at the office and was very responsive when I reached out. Appreciated the same day service!
~ Lisbeth C., Oakland 01/11/2023